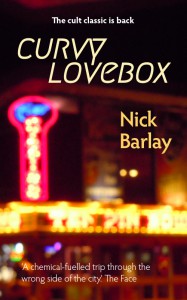 'The music's still pumpin' out the PA as DJ Loopi DexDex makes his last stand…' So begins 24 hours of pain and madness and laughter in the underbelly of the Big Smoke. Fifteen years after it was first published, Nick Barlay's out-of-print cult classic is back. It's 4am. The clock is ticking . . .
Out soon as an eBook
A word from the author
Curvy Lovebox is based on people I grew up with, and some that I even grew older with. It was rejected many times by mainstream publishers until I sent it to the X Press. This small, independent, Black publishing house, run by Dotun Adebayo and Steve Pope, loved it, and I became the first white writer on their list. The book became a cult classic, drawing praise for the poetry of its dialogue and its narrative voice. It also drew criticism from people who thought it just wasn't proper English . . .
Praise for Curvy Lovebox
'I don't know anyone who speaks like this.'
—The Times
'Even traffic directions are charged with hyper-energy.'
—The Observer
'A chemical-fuelled trip through the wrong side of the city.'
—The Face
'Nick Barlay's first novel is a cracker. The action bristles with a laid back wit that is hard to resist.'
—Barrie Keeffe, writer of The Long Good Friday
'Brilliant . . . one of the dons of British urban writing.'
—Diran Adebayo, writer of Some Kind of Black
About the author
Nick Barlay is the author of four acclaimed novels and one book of non-fiction. He has written award-winning radio plays, contributed to short story anthologies, and his journalism has appeared in many publications. He was named as one of Granta's 20 best young British novelists in 2003, until it was discovered he was too old to be young. He was born in London to Hungarian Jewish refugee parents. For more information, go to www.nickbarlay.com