Another beginning for The Book of Happy Endings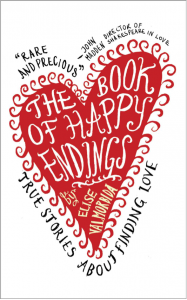 After being translated into Korean, German and Serbian, this popular collection of 'True stories about finding love' has now been translated into a Kindle ebook.  The remarkable black and white photographs that lead into each chapter have been preserved, making Elise Valmorbida's first ebook almost as much of a pleasure to dip into as its hardcover sibling.
Look inside the book on Amazon's website or read our full description.