The Double Happiness Company

Anne Aylor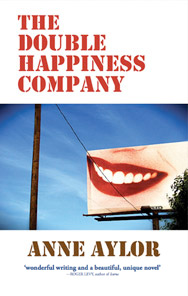 Author: Anne Aylor
ISBN: 978-0-9566725-0-6
Format: Trade paperback, 286 pages, 216 x 138mm
Published: 27 January 2011
UK paperback RRP: £9.99, inclusive of P&P
UK Kindle edition
US Kindle edition
Ballet-mad Katie Rivers lives in a small border town in New Mexico with her eccentric half-Cherokee mother, wisecracking father and Kawasaki-crazy brother who calls her a 'weirdnik in a tutu'.
When she turns 15, Katie escapes from her family and boring hometown into the hothouse world of professional dance. Her single-mindedness takes her from a desert backwater to the dance capital of the world. Katie struggles to adapt to the shove and push of New York City as events at home threaten to smash the Rivers household.
Set against the backdrop of the Vietnam War, The Double Happiness Company is a poignant, funny novel about fat, fate and ballet. It exposes a fractured family's secrets, their unspoken love and why home is where the hurt is.
Book trailer
Audio excerpt
Here you can listen to a recording of Chapter 4, 'Acrobat of God'.
Praise for the book
. . . a book that will make you laugh and cry all at the same time . . . The characters are superbly drawn, [Aylor] writes beautifully, and throughout there is a fine line between comedy and tragedy, which truly involves the reader as the drama unfolds.
Dance Europe
A brilliant novel. I couldn't put it down. A remarkable insight into the relationships between women and the novel captures perfectly some of the underlying reasons for conflicts between mothers and daughters. Anne Aylor creates an extraordinary "monster mother" and slowly reveals her true nature. The novel is a warning to all women about how easy it is to trust the wrong women in your life. For men, it will be a revelation about how women's lives can be  dominated by their image of their bodies. But in the end it is a great novel about love.
Dorothy Byrne, Head of News & Current Affairs, Channel 4 TV
Wonderful writing and a beautiful, unique novel.
Roger Levy, author of Icarus
Katie Rivers is a heroine for anyone who's ever had a real dream. A wonderful story.
Rosanna Seravalli, former soloist, American Ballet Theater
This is a wonderful book! And, as good dancing does, it will stir your memories and lift you up.
Finis Jhung, Master Teacher, former Principal Dancer, Harkness Ballet
A heart-rending tale.
Christian Holder, former Principal Dancer, City Center Joffrey Ballet
About the author
Anne Aylor has had short stories published by the Arts Council of Great Britain, The Literary Review, London Magazine, Fiction Magazine, Stand Magazine and broadcast on BBC Radio. Her first novel, No Angel Hotel, was published by HarperCollins and St Martin's Press. In 2008 she was shortlisted for the 2008 Bridport Prize and the 2011 Fish Short Story Prize.
She is 90,000 words into The Speed of Dark, a novel about love, death and beekeeping and has started work on her fourth set in Spain at the time of the Civil War.