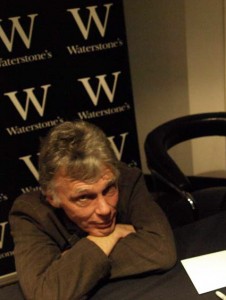 The first person in the glare is Charles Boyle, polymath and poet. He had a long career with Faber and Faber (14 years in editing and production) and now works as a freelance editor which allows him more freedom to run the publishing company he set up, CB editions. Charles edited our first book and is shown here at the launch of one of his own publications, Elise Valmorbida's The TV President.
Books are something Charles is fiercely passionate about. He has been kind enough to let me pick his brains about this publishing lark. He also writes a smashing blog. Click here for an interview with him.
Hats off to Steve Mullins who took the picture.